Thank you to Hannah at Peanutbutter&Books for including me in this interesting book tag.
I have not read any Wonder Woman comics, but I am excited about the new YA novel that  features Wonder Woman, being released August 29th. (But it on Amazon!)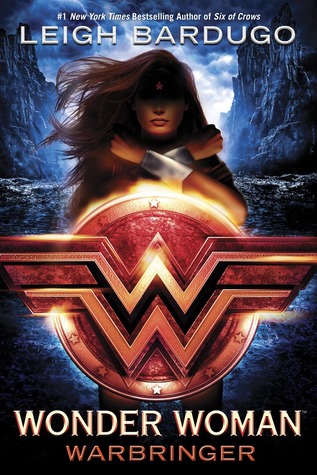 I saw the movie with my husband a few weeks ago, and I found it very entertaining. My husband, who can be a bit of a move snob, described it as "A Movie". I guess he wasn't very impressed by it. Still, I think Gal Gadot did a wonderful job and portrayed a hero who has strength and heart.
Here is the tag:
1. WONDER WOMAN:  YOUR FAVORITE BADASS FEMALE BOOK CHARACTER.
I've been thinking about this and I've decided to choose Hermione from the Harry Potter books. Without her, HP would have been dead in the first book. She saved his fumbling butt on so many occasions. She is super smart, hard-working, and not afraid to stand up for herself. And when I was young and reading the Harry Potter books, I remember wishing I was more like her.
2. FANTASY ISLAND:  A BOOK SETTING YOU WANT TO ESCAPE TO.
Gee, this is another one that's hard to pick because all the best fantasy stories take place in a world that is SERIOUSLY messed up. If I knew I wasn't going to be in the way and end up dead in possibly more than one way, I think I would choose Game of Thrones. The television show has already made this book come to life in the most beautiful (and scary) ways, but the whole landscape is just gorgeous. Just imagine the view from the top of the wall… or even Winterfell surrounded by snow.
3. LONDON:  A HYPED BOOK THAT LET YOU DOWN.
This book has a 4.14 rating on goodreads but I could not get into it. It was just too weird and written in a super confusing way. I don't often stop reading books even when they are bad, but I just couldn't force my way through this.
4.  STEVE TREVOR:  A BOOK THAT HAS A BEAUTIFUL COVER AND A GREAT STORY
Beautiful and Creepy. I loved this book. (Crazy guy kidnaps girls and turns them into his butterflies for his garden.)
5. LASSO OF TRUTH:  A BOOK YOU HATED.
This is probably one of the worst books I have ever read. Enough said.
6.  WONDER WOMAN'S SHIELD:  A BOOK SO SAD YOU NEED A SHIELD.
Aww, gee. Things don't make me cry as much as they used to, unless it's my kids driving me past the point of sanity. The last book that I can remember making me sob my heart out was The Hunger Games (Book 1). I just cried and cried and cried.
7. ARES: A VILLAIN THAT IS SCARY BUT YOU CAN'T SEEM TO HATE.
Is it okay to pick the husband in this book? He's not exactly a good guy but I don't hate him. Or her for that matter.
8.  THE AMAZONS:  A BOOK THAT YOU WISH HAD MORE / BETTER LGBT+ REPRESENTATION.
I'm not really sure about this one. I haven't read a whole lot of stories involving this kind of love interest, or at least I haven't noticed. I guy I might say the whole unknown gender thing in Ancillary Justice led to some LGBT that could have been made more clear/better if the gender thing wasn't so confusing. Still, this series is AWESOME.
TAG: EVERYONE WHO LOVES GAL GADOT AND IS HYPED FOR LEIGH BARDUGO'S BOOK, but mainly:
Melanie at Metotheany
Sarah at The Criquing Chemist
Happy Reading!