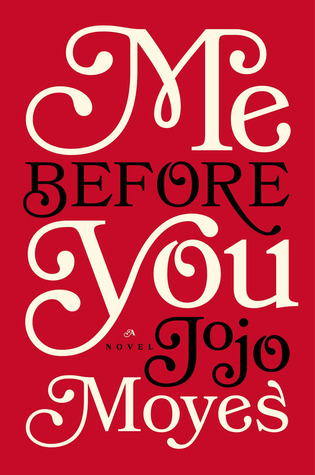 5/5
What is it about?
This book mostly takes place from the perspective of Louisa Clark. Louisa is a twenty-six year old woman who is close to her family and works in a cafe. When the cafe owner decides to close up shop, she is left desperate for a job to help support her family. She finds a job taking caring of Will Traynor. Will was hit by a motorcycle two years ago and suffered a spinal injury which left him a quadriplegic. He is miserable and tired of this life and Louisa tries to cheer him up.
Was it good?
Yes, I loved this book. There was a lot of hype around this book a few years ago, and again when the movie came out so I was a little reluctant to read it. However, once I started reading the book, I had a really hard time putting it down. I had to force myself to pay attention to my children and husband. At dinner, I asked my husband if he could put the kids to bed so that I could read. He told me that I had a problem, but thankfully agreed. I was able to finish the book last night but then laid awake for an hour thinking about it.
It is pegged as a romance book, and I think the romance was done very well. The romance felt natural and was not rushed. Louisa is a witty girl, and I really enjoyed the sparring between her and Will. I enjoyed how difficult it was for her to get along with her sister. I enjoyed how much she learned and grew over the short 6 months that the book takes place in. I enjoyed this book. 
I think this would be a good book club book because it makes you think about a lot of different things. What kind of quality of life is important to you? How can we take care of our families? What would you have done if you were Louisa? If you were Will? If you were his mother? How did you feel about Louisa's mother's reaction?
I am aware that there is a movie. If I am able to convince my husband to watch it, I will let you know how it measure up to the book.
Happy Reading!